We'd like to give a huge congratulations to 2nd Line Marketing's founder, Jamie Ziglar! Jamie has taken on the honor and role of Corporate Walk Chair for the 2021 New Orleans Leukemia & Lymphoma Society's Light The Night event; for the last two years, he has served on the Executive Committee of Light The Night. His dedication and leadership are sure to make the night a success for the teams and for our community as a whole.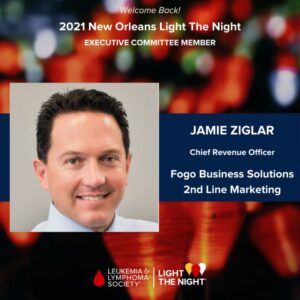 Light The Night is an annual event that helps to raise funds for lifesaving treatments for those battling blood cancer. The Leukemia & Lymphoma Society provides patients with support services and treatments and is the largest funder of blood cancer research. From educating patients, families and medical professionals to advocating for cancer patients at the state and federal levels, LLS has made it their mission to cure blood cancer and to support and improve the life of those currently fighting. 
Every year, patients, survivors, families and communities unite at Light The Night to celebrate, honor and remember those who have been affected by cancer. The 2021 New Orleans Light The Night event will take place on Thursday, November 4 at 7pm. Location TBA.