Google will begin to roll out its new page experience update sometime around mid-June of this year. This will be after minor delays pushed the date back from the originally planned timeline of May 2021. The update promises to lend greater weight to factors relating to user experience, while also opening up Google Top Stories and Google News carousels to non-AMP content.
But what does this mean for the end user? And, consequently, what does this mean for a person who designs and deploys websites, delivering content to the end user? Let's take a look at the 5 things your website needs to have before the Google update finishes landing in mid-August.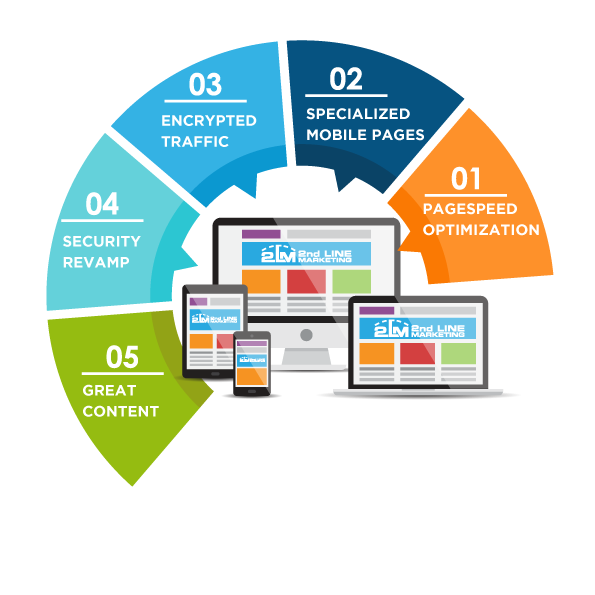 Page Speed Optimization
A big part of Google's announced update were the "Core Web Vitals"; three metrics that collectively represent how well a website loads and facilitates interaction with the user. The three metrics are: Largest Contentful Paint (LCP), First Input Delay (FID) and Cumulative Layout Shift (CLS). LCP is a measure of how long a website takes to display meaningful content, FID relates to the amount of time a website takes before it is ready to accept interaction from the user, while CLS denotes how long it takes for the visual elements on a webpage to stabilize. 
What's common between all three measures is a focus on the amount of time it takes to deliver a web experience, meaning a good way to start working towards improving them would be to look into your own website's Page Speed insights and Lighthouse performance score. Both site audit tools give you suggestions on how to improve your UX, and while they aren't (at present) designed to explicitly track the Core Web Vitals metrics, they do present more holistic options for improving your load times and interactivity.
Specialized Mobile Pages
With the June update, Google will finally stop favoring the Accelerated Mobile Page (AMP) format for delivering mobile content. This comes after over half a decade of the tech giant trying to make AMP the prevalent framework for mobile content delivery, an effort that sparked some controversy within the Networking Community. Non-AMP pages will now be able to compete with AMP pages for real estate within Google Top Stories listings and the Google News Carousel, so long as they don't violate Google's news policy.
The fact that Google is loosening it's focus on the AMP framework does not signify a move away from mobile focused content delivery though, and mobile friendliness is listed as one of the page experience signals that'll start debuting next month. If your website doesn't have many mobile friendly, or dedicated mobile pages, maybe it's time you had some deployed. The shift away from AMP means that a lot more websites are eligible to compete for Google rankings, and you wouldn't want to miss your chance to capitalize.
Encrypted Traffic
HTTPS is also listed as one of Google's page experience signals and is arguably one of the easiest boxes to check off on your list. Obtaining a valid TLS/SSL certificate has never been easier or cheaper than at present, and its value is immense as a means to authenticate traffic between you and your users, while protecting both you and them from a variety of cybersecurity threats. This means that, not only can your users trust traffic from your website, they also don't need to be worried about the security of the data they transmit to you, or the risk posed by potentially malicious actors.
Security Revamp
HTTPS is a great start, but encrypting your traffic is hardly the be-all end-all of threat prevention from a cybersecurity standpoint. Now is a great time to investigate whether your mail servers are secure, or to look into the benefits of dedicated hosting as compared to shared hosting, and so on. Traffic between you and your users represents only one possible avenue for vulnerability, your directories and filesystems are another. 
Forgoing even direct vulnerabilities though, the fact still stands that if you're using shared hosting services, your site could be compromised due to your "neighbors", i.e. the sites you share your server with. If one site on your server is known to spam clients with undesirable emails, it could lead to your email being sent to the spam folder too. If another hosts illegal or otherwise harmful content, this could even lead to all sites with your server IP getting blacklisted from Google Search altogether.
Considering that "Safe Browsing" is another page experience metric, it shouldn't surprise us to see many sites updating or revamping their cybersecurity profiles over the coming months. Maybe it's finally time to get down to that audit you've been putting off for months. 
Great Content
As always, content is king, and Google has confirmed this will continue to be the case even after the new rollout. In the FAQ for the impending update, as well as in numerous articles leading up to this period, Google explicitly stated that even websites that have subpar Core Web Vitals scores can rank higher than more "optimized" websites, given that they host uniquely useful content that is highly relevant to their users. SEO and SEO Content will no doubt continue to play an important role.
Google has always maintained that the intent of their search algorithms has, in general, been to help users find the best content out there for them. Other prominent factors may pertain to aspects like content delivery optimization, but at the end of the day, these aspects can never exceed the value of the content they act as a vehicle for. While Google has already advised users not to expect drastic changes, the actual impact of the coming rollout remains to be seen. What's certain is that good, honest purveyors of content shouldn't try to reinvent the wheel, and should just focus on getting themselves up to par with the rest of Google's outlined metrics.